About CancanIT
What is CancanIT?
CancanIT is online center for web developers professional certification. It offers eight unique certification programs covering major modern web development technologies: HTML, CSS, JavaScript, jQuery, PHP, MySQL, Wordpress, SEO (Search Engine Optimization). Our award-wining certification programs are created by top rated niche experts community and are regularly updated with a fresh contents to match the latest IT industries standards.
This awarded certification program represent a high level of competency, ethics, and professionalism of certificate owner. CancanITs standards require professional developers to look out for clients interests above their own, constantly providing the best quality of code in a timely manner.
Prior to 2015 CancanIT was providing online tools and services for webmasters and website owners. Since July 2015 we changed the niche and put all prior SEO tools and services at seo-analysis.org.
Concepts of CancanIT
CancanIT certification exams is a resultant compilation of knowledges and experience relating to a long-term web development practice of CancanIT team and contributors. The idea of the development of such product originated from over 15 years' inherent experience with the web programming and websites development.
Gathering an expert team in the field of web development, our knowledge base, and maximum automation has helped to create this unique product and nurture it to deliver a high quality client-oriented service. Since the start, and so far we have carefully saved the spirit of a start-up company and careful treatment to our customers and partners.
We build a long-term successful relations with our customers. Being a freelance developer, career starter, or experienced professional programmer, you can find certification to be useful to prove your skills level and become more marketable.
What Do We Offer?
Professional certification in eight most commonly used niches of modern web development
Unique double-stage certification exam process consisting of theory test and "real-life" practice task
Public online certification record and optional paper printed certificate
Unlimited number of exam re-takes with any fail penalties
Permanent life-time certification record with no requirement for recurring approvals
Personalized, professional and friendly support. 24h duty for critical issues
How We Do It?
We build great software that enables trust & profitable relationships between web developers and their clients
We develop examination services targeted to real-life tasks and problem understanding, not just valid syntax of code
We pay a great attention to details. In data accuracy, design, and feedback
We do automation where it's possible to give maximum personal attention where it's needed
We just like people who enjoy our way of work and who think the same way choosing us
Our Respective Partners
Mentors & Contributors
Quick Facts
CancanIT is online software and services company for web developers and programmers.
We're a remote team spread out across the US, Finland, Germany, and Ukraine.
CancanIT is a privately held, start-up company founded in July 2010 in Estonia, EU.
Prior to 2015 CancanIT provided online webmaster tools and services. We changed the niche to web developers professional certification.
Building a community and cooperate with 50+ mentors and top-rated contributors on regular basis to develop industry-leading certification exams.
Our contacts: website contact form (fastest!), and administrative e-mail:

support email
Logos & Such
The proper name of the company is CancanIT, with or without the ".com" piece.
Since 2015 we have changed our CancanIT branding logo. Now it's more basic dark-blue certificate medal instead of previously used funny yellow-black character. Please update your promo materials if you use old logo version.
If you require a version of our logo that's not provided below, please let us know.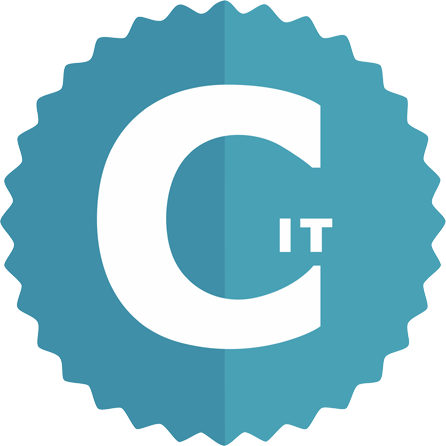 CancanIT logo
(350x348 px)

CancanIT text logo (294x62 px)

CancanIT banner (530x160 px)
Infographics we have produced based on our analytical data: