Paper Printed Certificate
Issuance and Delivery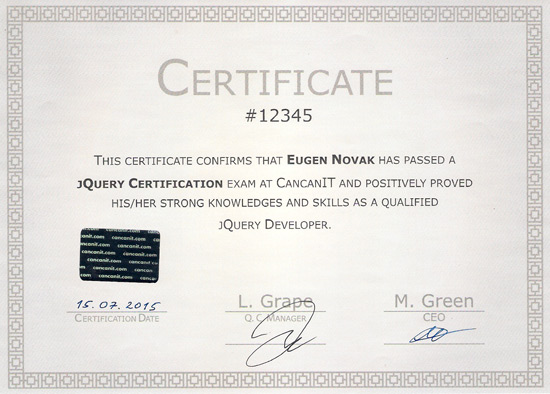 Paper Hard Copy
Every CancanIT certified professional may request a printed paper hard copy of his certificate. You may have to pay a nominal fee of USD $60.00 for the added expense of issuing a paper certificate.
Overview & Layout
Certificate hard-copy includes your full name, area and date of the certification, and unique certification number. Any of your contact data and social links are included.
Certificates are printed on high-quality paper and laminated. The dimensions of a blank are: 8.2x5,9 inches (21,0x15,0 cm). Each certificate is manually signed by CancanIT CEO and protected with holographic sticker.
Delivery
All printed certificates are delivered worldwide Except the following sanctioned or restricted countries: Belarus, Cuba, Iran, North Korea,
Russia, Sudan, Syria. We always use tracked postal mail service for
guaranteed delivery.
The final term of receiving may vary from your country.
Here are estimated terms for some popular directions:

Canada: 12-15 days

Germany: 9-13 days

Great Britain: 9-11 days

India: 14-20 days

Israel: 10-15 days

Swiss: 7-9 days

Ukraine: 20-30 days*

USA: 14-22 days
*Delivery time to Ukraine may vary significantly.