How It Works?
Web Professional Certification from CancanIT
Certification from Practicing Experts
CancanIT certification is based on thoroughly composed 2-stages exam. Our contributors and mentors have invented hundreds of test questions and tenths of practical tasks. All of them are designed to have strong "real-life" background. We are targeted to test challenger's real skills and understanding, not just the syntax or terms memorizing. This approach sets CancanIT apart from the competition.

Purchasing an Exam
Certification exam costs are final. Optional paper printed certificate delivery costs USD $60.00. All payments are powered by PayPal® and protected by CancanIT refund policy. The costs above are final. There are no hidden costs or fees attached to any CancanIT certification services.
If you're mind about group certification or bulk order, please check our Groups & Schools offers and discounts.
Theory Test
Theoretical test consists of 20 to 30 single and multiple choice questions, depending of chosen program. You'll need to correctly answer at least 80% of questions to pass the test. If failed, you'll be allowed to re-take a test within 24 hours absolutely free with any penalties applied.
Practice Task
Practice Task goes after successful passing of theory test. You will be asked to complete a small "real-life" task. Depending of chosen certification program this can be: develop a script, program code, style a page layout, fix/optimize a live website and so. Time to complete practice tasks vary from 1 to 4 hours. You can not pause the task during execution, so please note this planning your work time.
The same as for theoretical test, If you'll fail your practice task, you'll be able to retry it after 24 hours with no strings attached.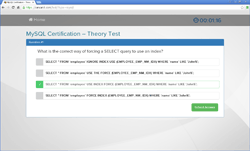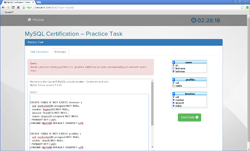 Certificate Issuance
Online certification record is issued automatically upon you complete your practice task. At the next step after finishing practice task, you'll be asked to verify and confirm your personal data. After this, you'll be redirected to your newly created public certification page. This page is published at CancanIT website, it's accessible for search engines and listed in Certified Professionals Directory. This page proves your successful certification and includes your basic info and photo. Feel free to add your social links, or links to your blog/site, to enable directory visitors and potential employers contact you fast.
If you have ordered an optional paper printed certificate, make sure you also have correctly typed your postal delivery info. Paper printed certificate is issued within 2 business days after certification exam pass. Paper printed certificates are sent by high-priority air mail. An estimate delivery time for your region, as well as more info about paper certificate, can be found here.
System Requirements
CancanIT certification exams can be accessed by PC/Mac, iOS and Android devices as well as Windows 8 tablets and Chromebooks. Below is a list of the technical requirements to access CancanIT exams.
Windows XP SP3 (or higher), Mac OS X 10.6 (or higher)
1GB of RAM minimum (for best experience we recommend 2GB or higher of RAM)
Minimum usable screen resolution of 1024 x 768 or higher
JavaScript enabled
CancanIT exams are compatible with the following browsers:
Internet Explorer - version 11+
Google Chrome - latest version
Mozilla Firefox - latest version
Apple Safari - latest version

Clear & nice certification workflow! I have enjoyed the second task most. And the theory questions are also clear and interesting.
Eugen Novak – jQuery Developer

Great experience. I'm going to use my certificate for my Freelancer profile to engage new clients and rise my hourly rate.
Kamil Yusupov – CSS3 Developer

Quick Exam, and Great Support!
Andy Coman – jQuery Developer