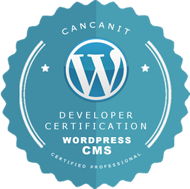 WordPress Certification
Are you a professional web developer? Do you master WordPress?
Do you want to prove your skills to gain recognition?
Then, there's just one thing to do next: the CancanIT WordPress Certification!
Certification Exam Process:
WordPress Expert Certification proves your knowledges and skills in WordPress CMS development and WordPress website administration. Certification process consists of two parts: theoretical questions-answers test, and practice task.
Theoretical test consists of 20 single and multiple choice questions by 1.5 minutes each. You'll need to correctly answer at least 15 of 20 questions to pass the test.
Practice task is the second part of certification process. It goes after the theoretical test and you can complete it at once or later another day. You will be asked to complete a small "real-life" task: create a WordPress website and develop several custom features on it. Time to complete the WordPress practice task is 150 minutes. Since June 2015, CancanIT automatically checks your results at once, and there is no need to wait for the manual verification check.
Applicants are allowed to have unlimited multiple attempts at all tests. Questions are randomized and an applicant may get a new version for each attempt. There is no penalty for failing certification exam, and it's free to retake the test after 24 hours.
WordPress Certification Covers:
Certification is based on modern WordPress 4.7 version. The following topics are covered during certification process:
Installation & CMS Basics
Themes Development & Customization
Users & Permissions
Core Functions, Hooks, Taxonomies
Plugins Development
Multisite Setup
Speed & Performance
Certificate Issuance & Costs:
WordPress professional certificate is recognizable way to present yourself as an expert-level WordPress developer. It is issued both online as a public web-page at cancanit.com website, and optional paper document. Paper certificate is not mandatory and is sent upon request by high priority mail for additional fee. It is printed on a special certificate template blank and includes holographic protection. You can see the example paper printed certificate here.
Certification cost is USD $120.00. Optional paper printed certificate delivery costs USD $60.00. All payments are powered by PayPal® and protected by CancanIT clear & risks-free refund policy. The costs above are final. There are no hidden costs or fees attached to any CancanIT certification services.
Group certification plans
Need to certify 3 or more people?
We offer flexible, cost-effective certification for your business, school, or organization.
Get certified
Pass exam & get your certificate online already today:
This exam has Advanced Level of difficulty. Recommended for most developers as a stage between Junior and Senior.
Exam Contributors:
Bryan Poulsen Math lab lead support technician at Dixie State University.

Kathleen Kalata Ph.D. Assistant Professor, teachs courses in web development & programming at LSSU.

Dr. Tyson McMillan Teaches programming and web development at Tarrant County College (Texas, USA).

Hemant Patel Senior programmer at ProStartMeTechnology. Online startups enthusiast, computer science volunteer.

Sourabh Reddy Maulana Azad National Institute of Technology member, front-end and MEAN stack developer.