Web Design Vs Web Development
9th of July, 2016

Web is a magical land. This is where you may request any service and be done and with it in time. More often you'll get access to a web browser, open it and type in a URL/link and search, and Voilà! Your searched site is displayed in a moment. It is amazing how it all happens. We often wonder about all these mystic wonders of the Internet. This makes us forget that for all that to be achieved, there was a web designer who worked closely together with a web developer to get things just right - for you. So, let's take a look at today's subject: Web Design Vs Web Development
It is annoying and funny at the same time how many will often use these two titles (Web Design Vs Web Development) interchangeably. Websites are currently very crucial for any company aspiring to stay in shape and take part in a healthy competition. Therefore, it is important the web designer, and the web developer to work together in coming up with a quality output (website/system).
Web Design Vs Web Development: Web Design
Web designing relates to Graphics and Animation work. There is always someone behind all the work we find on the internet. What appears on your screen, the attracting, impressive displays are the work of a web designer. Often, the users will never understand the hard work put in by web designers in coming up with the content.
Web design entails the formula applied in design techniques, tools required and the creation of the actual web page displayed in front of the user's screen. It involves graphic designs, user interface. Web design may not be as simple as many think. It will often require a whole team of web developers, or even a single trained web designer to come up with quality work. One thing is for sure, you can be good at web designing if you had enough knowledge and the technical know-how in handling the whole process. At CancanIT, we'll offer you the chance to register, and get certified skills and experience. We make it our business by ensuring that we convert you from just a web designer to an actual recognized professional. Learn more on today's subject: Web Design Vs Web Development.
A web designer will apply and use a variety of tools, depending on the stage and type of the internet designing process. The tools typically used are updated over time to the current internet age and technology. They will often use both the vector (in formats of PDFs, EPS, WFM, and SVG) and the Raster graphic editors in coming up with excellent graphic design imagery and text layouts. To manage all these tasks, they'll need certain skill-sets. These skills and techniques that need to be acquired are listed below:
Page layout
User experience and interactive design
Marketing decision designs
Typography
Code quality determination
Web Design Vs Web Development: The Homepage Design
The home page is the most significant and determinant part of any website. Many great web designers (the likes of Kyle Soucy, and Jacob Nielsen) will agree with me if they already haven't confirmed it all over the internet. The home page is made to be eye-catching to any internet savvy browsing the web. It should portray a clear and well-summarized content of the whole website in the display. Some techies have argued to dispute this very fact over years, but will often be defeated to justify. The home page should be designed well and the content included in it should be search engine optimized.
Web Design Vs Web Development: Web Development
Web development will often extend from developing a simple static web page (with just plain text) to much bigger thing. A whole complex, web applications, social networking sites and even business resource task managers. Web development will always go hand in hand with web design. The developer and the designer always know their parts, and will each deliver the results to the other. They also will aid each other in troubleshooting and configuration in case of a bug. Web development entails building up, writing markups and coding. Creation of Content Management Systems (CMS) is one of the major tasks of web development lately.
Web Development Growth History
Following the complexity of the Internet, web development has turned out to be key and solution in the current internet age. The web cannot survive without web development. Growing and the before existing industries have sort to closing their businesses online. To do this, they will need a well secured stable website system. Who better to see to that, than our esteemed web developers? Great enterprises work in teams of up to 100 developers.
Open source software for web development is also a thing. The likes of LAMP (Linux, Apache, MySQL, and PHP) stack, Glassfish and Perl. These made web development much easier. However, it wasn't enough. This saw the rise of easy-to-use software like Visual Studio, Dream Weaver, Blue Griffon.
With time the only locally available software was decentralized and upgraded. This enabled users to distribute and build websites regardless of location to the computer. This opened doors to cloud software like Google Docs, Adobe Creative Cloud, and Dropbox. Developers can now store their data online. The same data can be accessed from anywhere. The rise of open source CMS like Drupal, Joomla, AWS, Github now enables developers to pick up and continue developing their ongoing projects regardless of location.
Web Development Security Considerations
Data/information entry errors, file encryptions, output filtering, SQL injections are among the security considerations that web development is concerned with. It is the business of the web developer to ensure that users with malicious intent are barred from doing any harm to website systems. Users with malicious intent will use certain scripts in sniffing passwords, user data, and other crucial information (e.g. credit card, bank accounts numbers).
Security bridges will always be there even after ensuring system safety. It is the obligation of web developers to keep the network systems up to date. New security updates are often released and the new security concerns can be discovered and solved.
Web Development Tools
The are web browsers that enable the development of websites. Tools that the web developers will need in troubleshooting and configuration are embedded in these browsers. The most common web browsers used by web developers are as listed:
Safari - the Safari Development tools
Google Chrome - Web Developer Tools
Opera - Dragonfly tool
Internet Explorer - web development tools
Mozilla Firefox - web console tools
Features used In Web Development
Features in web development are found in the web development tools. To get access to the tools embedded in the internet browsers, place the cursor on any item and right-click to select the "Inspect Element" option. The features are as listed below:
Profiling and auditing
Web page assets, resources and network resources
HTML and DOM
JavaScript debugging
For more clarification, here is a sample showing the tools from both Google Chrome and Mozilla Firefox web browsers: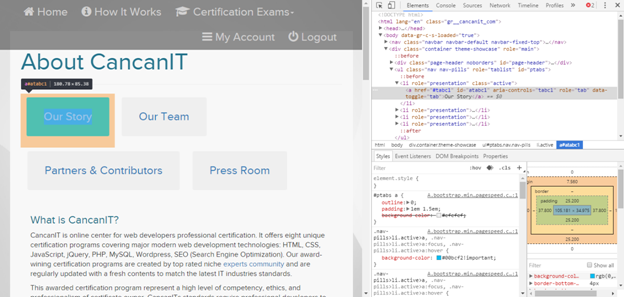 Fig 1: Google Chrome browser
Fig 2: Mozilla Firefox browser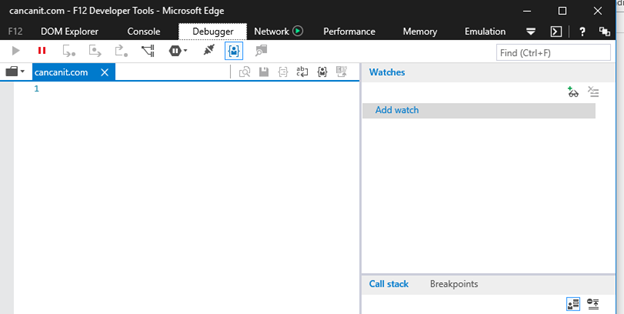 Fig 3: Microsoft Edge browser
Web Development Framework and Use
Code reuse and web-based application systems' frameworks are vital in reducing the time variation taken in web development. Thereby, meeting the deadlines just in time comes in as a priority. This will enable an organization to save on value and time costs. However, many organizations will prefer to control their API developments. The likes of HUAWEI and other major global companies like to do so. These companies often have their customized APIs that are only used by their active web developers.
At CancanIT we will provide you with enough information and training on how to customize your API that will be of great importance in your career life as a freelancer.
In Conclusion
Before all, I hope this article has at least somewhat, summarized the Web Design Vs Web Development inquiry. Also, I am glad to say that there's been no better time to get into web development and design. Just enroll whenever you are ready. But as they say, time is a factor. Why wait around, watching others advance to being expert techies.
Web development and design take many forms in the coming up with the best websites. But despite the type of web development or design you may reside on, skills and the technical know-hows are significant as well.
Check out https://cancanit.com/ to view our certification services. Enroll and begin your path to success in web design and development.
Hope you've enjoyed reading the today's selected article on Web Design Vs Web Development. Visit our Blog page for more information!
Success is Yours!
You may also be interested in: