Oldest Universities in the World: Education Through History
21st of October, 2016
Introduction
Today we take a step in history of education in a slightly narrow sense where we try and figure out what are some of the oldest universities established in the entire world. All this, while distinguishing those that are still up and running. Furthermore, we will try to figure out which one of these were the first to actually issue certificates and/or diplomas to its students.
However, before we start, please take note:
All information included here has been gathered through online research and basically a lot of this information is presented on a as far as we know, or best known basis. This means that history can be elusive at some times. Information could have been misplaced over the years, papers lost or buried. Not only that, but there's a lot of unusual controversy around this topic, plenty of people have different opinions, information and sources.
Regardless, we will do our best to provide correct information with authoritative sources such as the Guinness Book of World Records, recognized university rating platforms, world heritage encyclopedias and similar.
Let's begin.
First Universities in the World
Europe and the Middle East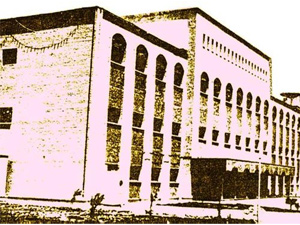 Ahvaz Jundishapur University of Medical Sciences in Iran
On the very top of the list, we have the Ahvaz Jundishapur University of Medical Sciences in Iran. Many claim this is the first university in the world, established way back in 200 B.C. However, as we previously mentioned, there's a lot of controversy around this.
If you look at the university's Wikipedia page, you will find out that it claims it's been established in 1955. However, it also claims it is a reincarnation of the Academy of Gundishapur - which did exist in antiquity. In any case, we know it at least has origins back in the ancient times, and that its operations have not been continuous.
The University of Al-Karaouine , Morocco - 859.
Al-Karaouine was founded a very, very long time ago. In 859. That's a staggering 1157 years ago! The University of Al-Karaouine has been recognized as the oldest university in the world by the Guinness Book of World Records. It has been continually operating, and of course grants degrees to its students.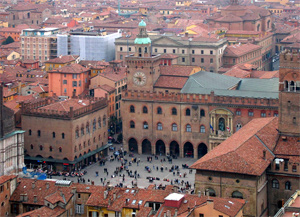 University of Bologna in Italy
University of Bologna, Italy - 1088.
Even thought it is ranked 208th in the QS World University Rankings 2016-2017, it is one of the oldest established and continually operational university in the world. For the majority of its time, the university only offered doctorate studies. However, like most other universities it is now offering a wide range of studies across many levels.
If you look at the World Heritage Encyclopedia, it will claim that the University of Bologna is in fact one of the first. A higher-learning institute that awarded degrees to its students.
But wait, didn't we just say The University of Al-Karaouine, Morocco was founded in 859? Yes? Then this is contradictory information! Well... Yes. The World Heritage Encyclopedia and the Guinness Book of World Records actually somewhat contradict each other. The latter states that the University of Al-Karaouine is the first in the world, and that the University of Bologna is the first in Europe.
These kind of things probably happen because different institutions might have different definitions on what an university actually stands for. Anyways, let's continue.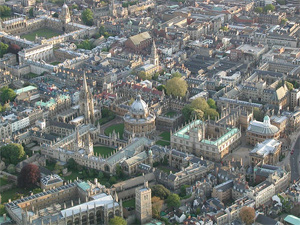 University of Oxford, Great Britain
Next off, we have the University of Oxford. It is not known in which exact year it was established. It is believed to be about a century after Bologna, around 1100. Fun fact - the university attendance skyrocketed rapidly after Henry II banned English students from studying at the University of Paris in 1167.
The University of Paris itself was founded in very similar time, sometime in 1150. Concerning Europe, things developed rather rapidly after this point in time. Following the next few centuries, many new universities opened up. These include a lot in Italy and Kingdom of England, such as universities of Padua, Siena, Macerata, Rome and others in Italy, and then to really famous institutions such as Cambridge in England.
Fun fact - Cambridge came into being as a result of a large dispute between scholars who left Oxford after the executions of two scholars in 1209.
Canada and the United States
Some of the most prestigious learning institutions in the far west were established around the 17th and 18th century.
Universite Laval came into being in 1663, but wasn't chartered until 1852. University of New Brunswick opened its doors in 1785, and the University of King's College in 1789.
Harvard University was founded in 1636 (chartered in 1650), Yale University in 1701. Princeton and Columbia universities came shortly after, Princeton in 1746, and Columbia in 1754.
Let's move on to other parts of the world.
Oceania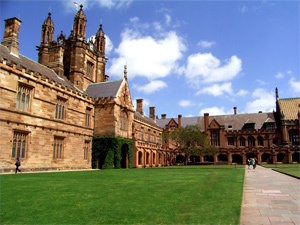 University of Sydney in Australia
Here we've got the prestigious University of Sydney, which was founded in 1850 and considered the oldest university in all of Oceania and Australia. During the next few decades, universities of Melbourne, Adalaide, Tasmania, Queensland, New England and a handful of others were established as well.
Latin America and the Caribbean
Most higher learning institutions in these regions were either established or recognized as universities during and after the 18th century. However, there are some older institutions worth mentioning.
Today known as National Autonomous University of Mexico was originally named as Royal and Pontifical University of Mexico, and actually operated as far back as in 1551.
Argentina had its National University of Cordoba open its doors in 1613. National University of San Marcos, Lima - established May 12, 1551 and named as the Royal and Pontifical University of the City of the Kings is actually the first official university (continuously operating) across all of the American continent.
Africa
Again, according to WorldLibrary.org - the oldest university in Africa is Sierra Leone: Fourah Bay College, University of Sierra Leone - dated back to 1827. However, it would be a surprise if there wasn't some counter-information.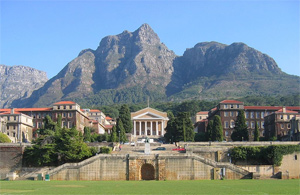 University of Cape Town in South Africa
Concerning South Africa, we've got the University of Cape Town, which was established back in 1829, but received the university status on 2 April, 1918.
Asia
Asia is a very broad region, with many different countries, cultures, universities, schools and colleges. However, if we're to point one single university that is the oldest in all of Asia, it would be this one: University of Santo Tomas, established in April 28th, 1611.
The University of Santo Tomas is the oldest university in all of Philippines, and therefore Asia. University of Santo Tomas actually celebrated its 400th anniversary back in 2011.
What Have We Learned Today
You probably noticed we didn't include much information about first degrees or certificates that were handed out by these universities. Initially, this was one of the goals of this article. However, research on the topic has proven to be difficult - to say the least.
There aren't many scanned copies of such documents that are officially presented by authoritative websites. This is why we didn't showcase any. On top of all that, by now you're familiar with the controversy and difference in opinion surrounding the topic. This is why we tried to keep it on a best known and general basis as much as possible.
That said, this article serves as an interesting but basic look in education through history. We do not claim any information showcased here to be 100 percent accurate.
We've seen how long ago our civilization introduced higher-learning institutes that were or were not officially recognized as universities. Our culture and education through the past has been most interesting, and is definitely worth learning about.
You may also be interested in: